Apollo Tyres North America
Apollo Tyres North America; Apollo Tyres are following in the footsteps of the now famous and huge tyre companies, such as Goodyear, Dunlop, Michelin and Pirelli. They have now made roots in Europe, with a new factory about to be opened in Hungary and the purchase of Vredestein tyres the large tyre company from Holland. Vredestein is world renowned for their winter tyre range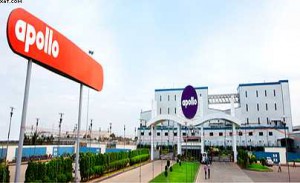 and also make an excellent SUV tyre.
After a steady year, Apollo has announced that they are now looking at the state of the North American market. The giant Indian company have already set roots in Europe with the Acquisition of Vredestein tyres, the giant Dutch summer and winter tyre manufacturer.
They have their eyes firmly set on the USA market.
The first step was to employ ex- Goodyear and DaimlerChrysler sales executive Steven Smidlein to be senior vice president for North America. His knowledge of the North American market is second to none. They have also employed Emil Herbak, as sales director.
The states will be supplied by the European Hungary factory initially, but I am sure that plans are up for a new facility to be built somewhere in the USA.
In a recent interview involving, Tire Business had with Neeraj Kanwar, Apollo's vice chairman, and managing director said that,"With North America almost being an unknown territory for us, Steven's 30-plus years of sales management and retail experience, especially in the automotive sector, will help establish both Apollo and Vredestein brands on this continent,"
"We would be relying on his proven ability to grow market share, with a focus on delivery of aggressive sales targets,"
Apollo tyre has also set up a dealer tyre network here in the UK. They have transferred the British operation side of the business to Holland and are back up and running after different computer failings.