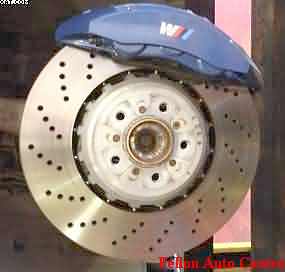 Stop what you're doing and think for a moment. When was the last time you had your Brake Safety checked?
it surprises me when i still see the amount of car owners that come into my service centre (Pellonautocentre) here in Halifax UK, with complaints of squeaks and bad rattling noises coming from their cars, when driving along?
I must also confess, that the majority of the car owners are ladies?
Not all but a 60/40% split is about the average. Anyhow we do get our fair share of Brake Safety problems, because we live in a hilly area and the customers are using their brakes more, (especially when going downhill). I am not complaining because the brake business can be very lucrative and garages can make a good margin.
The problem with brakes is that when they start to wear out then the wear spreads to other parts. For example if your pads are worn down to the metal, then it is likely that you will damage the brake discs. This can then go onto damage your brake calipers and so on.
The best and safest bet is to have your brakes checked and serviced at a regular period. This will "nip any early problems in the bud" and possibly save you money on future repairs.
Unfortunately drivers are very busy people and before they know it the car has gone a year (or two) with having the brakes checked?
This is when the banging and grinding noises come in, when the apply their brakes. They than panic and call us in a state of shock! Because Brake Safety and tyres are so important ,then we try our best to get the car in the same day and fix the problem. This is usually the pads that need replacing.
Sourced through Scoop.it from: www.boston.com