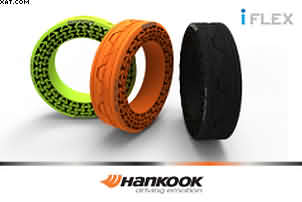 Hankook Tire has reported the successful high speed testing of its iFlex non-pneumatic tyre. The South Korean company has been developing the iFlex concept since 2011, and recently fitted its lates…
The The Hankook Tyres non-pneumatic tyres contradicts one of my previous articles?
Interestingly, I said that these airless tyres. Hence, would not be used on passenger cars . However, but now Hankook Tyres non-pneumatic tyres have somewhat changed my opinion.
Significantly, the I Flex tyres were put the test. On a KIA Ray ! Which was driven through a slalom course at up to 130 km/h (80 mph).
Hankook the South Korean tyre maker. States that its airless tyre performed perfectly well in all the safety and durability tests. This completely throws out my misconception that this type of wheel construction with a tread stuck to it would not be flexible enough to be used on the normal road cars.
The Hankook Tyres non-pneumatic tyres known as the "i Flex" is made from polyurethane synthetics (very similar to fork truck tyres) and according to a statement from Hankook, the new units are up to 95 per cent recyclable. A prototype size 155/590-14 (155 mm wide with a diameter of 590 mm) has been used in the testing.
Similar products now on the market
Another similar tyre product now on the market is the Michelin Tweel. This wheel/tyre combination is now in use on garden machinery and plant hire machines. The use of these tyres make it impossible to have a puncture repair.
Interestingly, punctures have always been a blight on pneumatic tyres. Especially on heavy machinery ! Such as JCB diggers ! Especially, where down time is very expansive.
The Hankook Tyres non-pneumatic tyres have now been tested on a car and the test have proved very positive, reaching speeds of 80 MPH. I also believe that the Tweel is now been tested on a BMW car. The results will be very interesting and could change the face of the tyre industry for ever?
Sourced through Scoop.it from: www.tyrepress.com