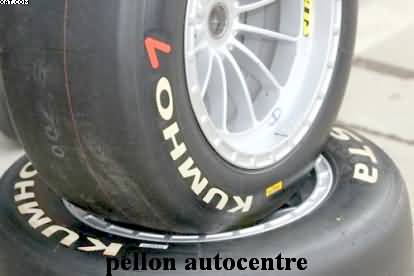 Kumho Information RFID tags-Crain News Service reportLONDON (June 23, 2015) — South Korea's Kumho Tire Co. Inc.
This is another addition to a recent post of mine. The post is about how the so called mid-range tyre companies are catching up to the big boys.
The RFID tags are fitted to the tyres, so the South Korean tyre manufacturer can obtain information about how well or badly a tyre has performed.
Feedback like this is invaluable to tyre makers. Other tyre companies are trying similar things using silicone chips to store data and information about tyre pressures. This data is sent to the cars computer(ECU) which will enable the suspension and other things to adjust accordingly.
I believe that this technology will be shortly used on F1 cars and has been tested on new Ferrari models.
RFID tags, were once used only for tracking the movement of cattle. They are now tracking consumer products worldwide, soon to include tyres. Many manufacturers are using the tags to find the location of their product they make from the time that it is manufactured until the time that it is pulled off the shelf and tossed into a consumers shopping cart.
Or in Kumhos case fitted to a car or truck.
The Kumho Information RFID tags. Hence, could also be used to store other information. Such as wear patterns and the temperature of the tyres could be stored for later use. Once the tyre has been located. So, the South Korean tyre company can track and retrieve the tyre . Naturally, to asses its overall performance and attributes.
So, the Kumho Information RFID tags. Will be located between the casing and the tread rubber. Giving them access to the location where it was fitted. Including the time when it was removed.
Not all the tyres will be tracked! Just the new products that will need recovering and then analyzing. Many people do not know that all the Kumho racing tyres that have been competed on. So, will  be returned back to the factory and examined, for say possible improvements with tread design or compound changes for future races.
#Eric Roberts
Sourced through Scoop.it from: www.tirebusiness.com