Pirelli Tyre Choice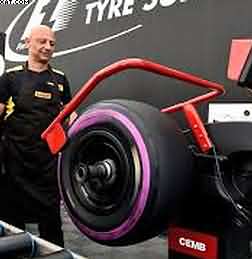 Pirelli has explained how it expects a new system to allow teams more tyre choice freedom in 2016 will work – as teams close in on finalising the regulations.
late on in the 2015 season The F1 governing body chose between Pirelli and a new bid from Michelin. Both these great tyre companies wanted to change the way that the tyre system operated for the 2016 season. Pirelli retained the franchise and also came up with some new ideas.
In the 2016 season Pirelli will now odder the racing teams three dry tyre compounds. This will be instead of the two offered in the 2015 racing season . The three compounds will cover the full racing weekend.
it gets a little complicated, with Pirelli allocating two sets of tyres for each race. Only one set though, can be used. It also offers one set of the softest compound tyres, that can only be used in Q3.
To finalise every driver will be able to choose a further ten sets of tyres from all three compounds. This will take their race allocation to thirteen sets of tyres.
Pirelli Tyre Choice
Each driver will then be able to choose 10 further sets from the three compounds to take their weekend allocation to 13.
I think that if you take some control out of choice of tyres, then you may be showing different skills? Michelin tyres wanted to come up with a similar proposition, but were pipped at the post by Pirelli, who also had some new ideas of there own.
In the 2016 coming race season Pirelli will be using their medium compound tyres(white), Hard compound (orange), soft compound (yellow) and supersoft (red) compounds. These will be joined by a fifth ultra-soft (purple) compound. The softest compound in the Pirelli racing range.
The racing will be more exciting because the winning team would have made all the right decisions including the correct tyres to race on, that particular day?
Sourced through Scoop.it from: www.motorsport.com