Table of Contents
Wheel Alignment Problems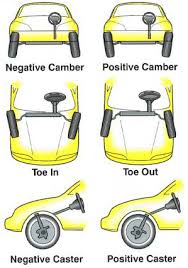 Fixing wheel alignment problems should not take too much stress. Check the following and fix your wheel alignment problems in standby.
Source: automedicsafrica.com
Another good article about your wheel alignment?
I guess that it is coming up to that time of year. When it is time to blow all the winter cobwebs off your car. Therefore,  prepare it for the summer ahead (if we have one?)
The Significance of Wheel Alignment:
Keeping Your Car on the Straight and Narrow Hey there, fellow drivers of Halifax and beyond! Today, I want to chat with you about something that might not always be on your radar but is crucial for the health of your car: wheel alignment. Now, I know we'd rather be talking about local landmarks or the best fish and chip joints, but trust me, understanding wheel alignment is just as important for your beloved vehicle.
 Picture this:
You're cruising along the scenic roads of Halifax, taking in the stunning views, when you notice that your car seems to be pulling slightly to one side. Or maybe your steering wheel isn't centred anymore. What's going on? Well, my friends, that's where wheel alignment comes into play.
What Exactly Is Wheel Alignment?
Before we dive deeper, let's break it down into simple terms. Wheel alignment is all about making sure your car's wheels are pointing in the right direction—not too much to the left or right, but perfectly straight. Think of it as a car's posture check. Just like we Brits appreciate proper posture, your car needs it too!
Why Does It Matter? Wheel Alignment Problems
Now, you might be wondering, "Why should I care about wheel alignment?" Well, my fellow Brits, there are several good reasons: Safety First: Proper wheel alignment ensures that your car handles well and stays steady on the road. No one wants to wrestle with the steering wheel, especially when navigating the tight corners of Yorkshire's countryside.
Tyre Lifespan:
 Misaligned wheels can lead to uneven tyre wear. This means you'll be shelling out for new tyres more often than necessary. With the cost of living in the UK, who needs that extra expense?
 Fuel Efficiency:
Yes, you read that right! When your wheels are correctly aligned, your car doesn't have to work as hard to move forward. This translates to better fuel efficiency and more money saved for a weekend trip to the Dales.
 Handling and Comfort:
A car with proper alignment handles better, giving you a smoother and more comfortable ride. You'll appreciate this, especially during those long journeys to visit relatives or explore the local countryside.
Local Angle:
Halifax's Historical Roads Speaking of local interests, did you know that Halifax has a rich history dating back centuries? The very roads we drive on today have witnessed countless tales of trade and industry.
To truly appreciate our town's history, it's essential to maintain our vehicles, starting with wheel alignment. Imagine the cobblestone streets of the past and how important it was for carriages and carts to have their wheels properly aligned for a smooth journey.
The same principle applies to our modern-day cars. By taking care of our vehicles, we not only ensure our safety but also pay homage to the traditions of our town.
 In conclusion, so, my fellow drivers-Wheel Alignment Problems
don't overlook the importance of wheel alignment. It's not just about keeping your car on the straight and narrow; it's about safety, savings, and the comfort of your rides through the stunning landscapes of Halifax and the UK.
Next time you're enjoying a drive through our charming town, remember that proper wheel alignment is not just a technical detail but a nod to our rich history. Keep your wheels aligned, and your car will thank you with smoother, safer journeys. Until next time, drive safely and explore the beauty of our local roads!
Car servicing is all important.
So is wheel alignment. Not only does it wear your tyres down. But at a much faster rate. Accordingly, it can also affect the way that your car steers.
We have all felt the affects of your car's steering and pulling. Either to the left or right? then this is usually caused by the car's wheel alignment being out of alignment. Thus, most of our customers are now familiar with wheel alignment problems?
The obvious problem is that your tyres will wear off
at either the inside or the outside edge. This causes premature wear and, indeed, costs you money. The second most common problem is that their car will try to pull to the left or right when it is driven?
In my opinion, the best thing to do is to start by having your car wheel aligned when you buy some new tyres. You should then keep an eye on the tyre for any signs of irregular wear. It is also a good idea to have your wheel alignment checked at regular intervals. Make sure that your garage checks it when you have your car serviced.
if your car is pulling to one side, then it is very likely to be caused by your alignment being out?
Wheel Alignment Problems
A good tip is also to ask your garage to rotate the wheels from left to right or back to front. This will give you more even wear on your tyres. You have probably noticed that on most models of cars, your front tyres wear much quicker than your back tyres.
By changing them over (rotating) them, you will get more even wear and also spread out the cost when you require new tyres. Wheel alignment problems should not be a big deal and should be a part of your regular car servicing.
http://www.pellonautocentre.com/blog/its-time-to-start-preparing-your-car-for-a-spring-service-aol-autos/