Like most of the other major tyre companies, Pirelli tyres are striving to compete in the drive to produce a greener and more fuel efficient tyre.
The new tyre from Pirelli is the Scorpion Verde, the Verde obviously meaning "green" in English.
The new tyre is an all "season tyre" and will be aimed at the ever growing SUV and Crossover vehicle market. Because the manufacture of the compounds will include a product by the name of Highly Aromatic Oil free or "HAOF" for short, they will use 8% less carbon based oil materials and therefore be safer to the environment, hence the term Verde.
The new Pirelli tyres will bring the level of tyre comfort and quietness to a new level, whilst also providing the driver with a higher mileage and reduce their driving costs.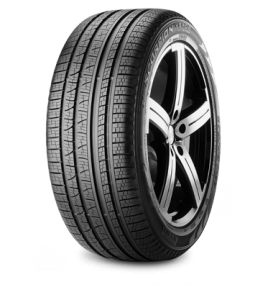 Drivers of SUV and Crossover vehicles are not known to buy these types of cars to save money on fuel consumption, but for other reasons which may include a higher driving position and a greater feeling of safety, with better vision when driving. These are the reasons that my wife gave when buying her new Mitsubishi Outlander. What the fuel consumption of the car did made little difference to her choice.
We do however have a significant proportion of our customers now driving these vehicles and when the price of fuel was sky high, they did look at things to help them with their consumption. I noticed that they were looking more and more at the information on the new tyre labelling system.
We also noticed that the cars were coming out on summer tyres and our customers in Halifax were getting concerned about the winter. Would this type of tyre be good enough for the winter? The answer came when we had our first bad winter for many years and these vehicles were hopeless in any type of snowy and icy conditions.
This is probably one of the reasons that Pirelli tyres used their new product as an "all season tyre" I am not sure that an all season tyre would be good enough in the hilly Halifax area, but would be ideal for use in the flatter and milder regions of the UK.
The Pirelli Tyres Scorpion Verde summer pattern
This tyre comes out in a normal type of summer tread pattern and has a fuel rating of C and a wet grip rating of B, which is up there with the rest of them. The tyre is now approved for use on some VW models and Complies with the 2012 EU Regulation on the reduction of noise, resulting in improved driving comfort. The SCORPION VERDE™ has been created by Pirelli, to take full advantage of their most modern materials, tyre structures and newly developed tread patterns in order to guarantee savings, in respect for our environment, driver comfort and safety on all road surfaces.
The tyres are available in sizes from 16 to 20 inch wheel sizes which covers most SUV and Crossover tyre fitments.
The Pirelli Scorpion Verde All Season
SCORPION VERDE™ ALL SEASON is a Pirelli Green Performance Crossover & SUV tyre are made for the drivers who look for a higher mileage and a small amount of off-road performances without having to purchase winter tyres, without giving up comfort and safety on all road surfaces and in every conditions. Both these tyres are well worth a try, when you have to buy a new set of tyres for your SUV or Crossover vehicle.
Pellon Tyre and Auto-centre offer car and van servicing and repairs to all makes of vehicles. We are members of Unipart Car Care centres and give a nationwide guarantee for all our work and parts. We also sell Pirelli Tyres online from our website www.pellontyres.co.uk by using the tyre selector and choosing your tyre size. We offer courtesy cars to local motorists who need to go to work and leave their car with us for work doing. We are also an official MOT testing station and are members of Motor-codes, who carry out checks for high standard of equipment and workmanship.