Continental Sport Contact 6
WE head out to the Blister Berg Circuit to test out the Continental Tire's new ultra high-performance tyre.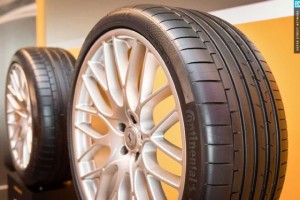 Continental Sport Contact 6
So, this tyre was designed for sports and high-performance vehicles. Black Chili compound was used ! Of course, for maximum grip in all directions enables supreme driving experience.
To enhance the power and performance of the new Contact 6 tyres. Then the guys in the laboratory at Continental have made further developments. Importantly, with the "Black Chili" tread compound. In the new Continental Sport Contact 6. Thus, there are two main things. Which ensure maximum road holding when the tyre is pushed to its limits.
The new type of tyres rubber compound. So, is so designed as to bind with the surface of the road. At the same time, the tyres footprint generates chemical reactions. Subsequently, between the tyre compound bonds with the road surface. Which ensures high adhesion. Acting like small suction pads due to the behaviour of individual atoms at nanosomic level.
All this technology gives the Sport Contact 6 fantastic grip on the road-surface.
This give grip during cornering, braking and also fast acceleration, both on dry and wet roads. The tyres top speed has been established at 220 MPH, meaning that the new tyre has to cope with massive structural pressures and forces, due to forces such as centrifugal force.
This of course is established by strong construction materials and manufacturing. These materials are created with new materials such as "Aralon 350", which is specially developed for the Continental Sport Contact 6.
Using the "Aralon 350" material which as I say was especially for the  Sport Contact 6, Continental utilises a synthetic fibre developed by two yarns made from strong aramid and closely interwoven with a yarn of flexible nylon. The yarn is then impregnated with rubber into belt strips. This fibre is placed under the tread as a joint-less cap ply. This structure is extremely strong and acts like an additional steel belt. So, and offers controlled, behaviour even at maximum speeds.