Driving too fast-Vredestein Tyres made me sick?
I really mean physically sick, let me explain. It was back in 2006; Vredestein tyres were going to launch a brand new product. The new tyre would be to fit the new popularity for SUV vehicles that were hitting the car market.
The 4X4 and SUV market was starting to become more popular amongst Europeans in most countries and were a growing favorite amongst women drivers. The extra height in the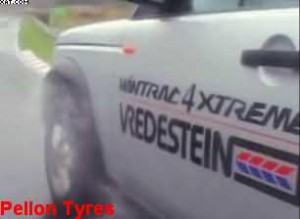 vehicles gave the drivers a better driving position, especially for the usually smaller female drivers, and in my opinion was one of the popular points of these cars.
These vehicles also came out in the more up-market brands such as BMW and Mercedes and these were followed by a new Porsche SUV and a completely new type of Landrover Discovery, with a much more streamlined and sexy shape that were becoming popular with the business owner types of customers.
Vredestein tyres could see the market gap
Vredestein tyres were already established as a leader in the winter tyre market and could see that this growing class of vehicles were going to need winter tyres especially in the countries that have to fit them by law, including Germany, Austria and Switzerland. These cars were primarily coming out from original equipment shod with summer tyres.
The summer tyres were developed by the tyre manufacturers to provide these top class cars with comfort and strength when cornering, because of the large sizes of tyres that these vehicles were coming out in, some are now even larger with 23 inch wheels fitted. If the makeup and compound of the tyres were not right, then these tyres would be a very hard ride and uncomfortable on most vehicles, so the correct makeup of the tyres was very important.
Vredestein tyres announce new type of tyre
Vredestein tyres had seen this problem arising and had developed a new type of tyre specifically for the SUV and 4X4 winter tyre market; the tyre would be the "Wintrac 4 Xtreme". The tyre was to be available in 16 different sizes and included some of the more exotic tyre sizes that fitted the more up-market models, including the new Porsche Cayenne.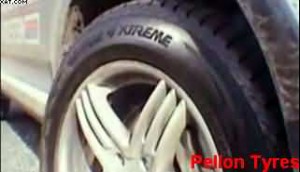 Vredestein tyres were in those days a mid- range tyre manufacturer, but always produced quality tyre products and they were very excited about their new tyre. The plan was to have a European wide tyre dealer launch and this was to be presented at a lake side resort in Austria with extensive tyre testing in the mountains of Austria. The whole adventure was kept secret to the last few days and all the European tyre dealers were given different dates to attend the new tyre launched. Countries were kept apart and we would be in the United Kingdom party to travel from Manchester to Saltsburg airport in Austria.
The whole thing had been kept a secret, a part of the fact that we knew it must have been something about tyres and I must admit that we were a bit excited about what was coming. We were then transported by coaches to nearby lake side resort, which I think was called the Schloss Fuschl Resort & Spa, Fuschlsee-Salzburg and were told to meat at seven in the evening for drinks and a presentation.
Vredestein had certainly gone to town with all the preparations and I was most impressed with the whole experience. After checking into our room we refreshed ourselves and were told to meet in a certain bar for pre-presentation drinks. I guess there were probably a hundred dealers there from all over the UK and Ireland and after drinks we were funneled into a conference hall to be seated for the presentation of what was to be the "wintrac 4 Xtreme", especially designed for the new generation of SUV and 4X4 vehicles.
The presentation was in keeping with the rest of the excellent hospitality and we were then treated to an evening meal followed by a male soul singer from Holland. We were briefed that the following day we would all be taken in groups of four in different brand new vehicle that were kitted out with the new wintrac tyres, this was to prove to us the dealers how good the product was.
The following day we packed our bags and assembled outside the Hotel frontage where we were given the number of the vehicle that we would be driving in. All the cars were driven by professional drivers with experience of driving in snow and mountains and all were covered in Vredestein logos. My car was to be a brand new Landrover Discovery the first one I had ever seen. We waited until all the cars were filled with tyre dealers and the cars all set off in a convoy.
I must admit to feeling slightly nervous, not knowing what to expect. The vehicles split up into small groups and we were climbing higher and higher until we reached the snow line. We continued to go higher and higher, but now we were driving at speed on very narrow single roads with deep drops at one side, I was now out of my comfort zone as I am a poor passenger at the best of times . We eventually reached the summit, which I was told was a glazier.
After doing several wheelies on the glazier I started to feel uncomfortable, but was assured by the drive that we were perfectly safe and he had been using these tyres for practice over the past 6 months. We then started to descend down the mountains, but we never lost the car once, I was most impressed with the tyres performance. After reaching the forest line going down the mountain, the driver decided to demonstrate how good the tyres were on a mountain gravel track and started hurtling the Landover downhill at great speed before slamming on the brakes.
That was the straw that broke the camel's back. I could feel my stomach hurtling up to mouth and threw up all over the brand new Landrover, just missing my fellow passengers.
I did feel a little better after that and the journey became more tranquil as fee wound down the small roads of the foothills back towards our waiting coaches and then onto the airport for our return flight home. It was on the whole a really well planned new product launch by Vredestein tyres and it proved to be successful for Vredestein and future sales, but the one thing I learned is that I will never be a rally car driver?
Eric Roberts
Hi I would like to introduce myself. I have worked in the Garage and tyre and I am MD for online battery company www.batteriesontheweb.co.uk. I have worked for a couple for national tyre companies in my younger days, before starting my first business. I now own a garage and MOT testing centre, here in the UK called Pellon Tyre and Auto-centre, and I am a keen blogger about anything to do with cars and their related products that will help my business. We are members of Point-S and Motor-Codes and are also a Unipart Car Care Centre and of course Tyre-safe.