Uniroyal Tyres Rainsport 3
New Improved; Uniroyal Tyres Rainsport 3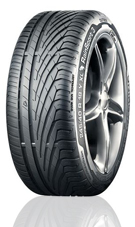 Have always been a popular choice for the tyre buying public of Halifax here in Yorkshire, UK.
The tyre that has been the most popular has been the Rainsport 2 tyre. This tyre has started to become obsolete and not with the keeping of modern cars and their developments. The tyre has served Uniroyal very well over the years.
I first started to buy tyres from Uniroyal tyres way back, when they had a distribution centre on the Leeds ring road at Seacroft.
This made it easy for us to collect tyres when we needed them. The company was then absorbed into the giant Continental tyre empire. The Seacroft depot was closed down and moved to the Continental distribution centre in Castleford about twenty miles away close to the M62 motorway system.
The Rainsport 2 was a directional tread pattern, but was less responsive than the new  Uniroyal tyres Rainsport 3 . Modern cars require much quieter tyres and so the Rainsport 3 was developed as a non-directional tyre. This has been a common trend amongst tyre companies. Recently though I have noticed that Michelin have introduced the CrossClimate tyre, which has a directional tread pattern?
Uniroyal also make a range of MPV and van tyres called the Rain Max 2 tyres. These tyres offer great stability and grip in wet weather and are a market leader.
The Uniroyal Rainsport 3 tyre is an asymmetric tyre,
which means that the tread pattern is different across the tyre width and the sidewalls are marked inside and outside so that they can be fitted correctly onto the vehicle. These tyres should be replaced or fitted in sets of four. They will give the car much safer cornering and stability at high speeds.
They are available in the Halifax area of Yorkshire from us at Pellon Tyres or can be bought online at http://www.pellontyres.co.uk/TyreSearch/Details/11017/Uniroyal+RainSport+3+20555R16
Eric Roberts