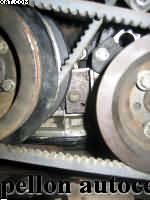 Timing belts are Important

When it comes to car servicing, Timing belts are Important/cambelt is the most important serviceable part of a car's engine. pic.twitter.com/0mBknuJpGN
There is no doubt that your cars Timing belts are Important. Consequently, this is another reason why you should take in your car for regular servicing . Importantly, at regular intervals.
You may ask what servicing has to do with your timing belt?
The truth is that all good garages (including my own garage)here in Halifax, Yorkshire, UK. On the positive side will check out the timing belt changing times . So, when carrying out a service..
Timing belt change intervals, are recorded on the computer data that we have to keep nowadays. These systems act as the timing belt interval replacement guide, and keep in all the interval times and other important information, such as how many hours labour it takes to fit one.
This timing belt replacement time will be used to give our customer a price and perhaps time for them to save up for job doing. Although it is not a mega expensive job it will usually also mean that you will also need a price for the timing belt and water pump replacement cost.
The water pump is usually a part of the same system
So, is also better to be changed at the same time. Of course, the timing belt also drives the water pump and is better changed. Avoiding a water leak in the future. Having to repeat the same job in the too distant future.
Also if you have a leaking water pump then it is best policy to change your timing belt at the same time.
Some models of cars have metal timing belts which do not require the same attention, but the workshop manuals will tell your garage this.
DO not ignore the advise of Timing belts are Important, because the end consequence will mean a damaged engine,(at least)
Sourced through Scoop.it from: twitter.com