Brakes grinding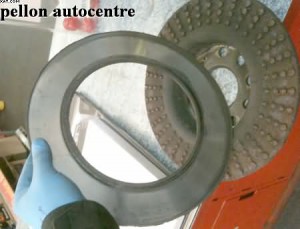 Brakes grinding
This is the worse example of brakes disintegrating that i have ever seen? Hence they were fitted from new on a Skoda car. Of course, the driver must have been very deaf. Because he brought the car to us, saying, "that his cars brakes felt a bit spongy"?
As a result, when we removed the wheels. Thus, we found that the front discs were completely shattered. Of course, and in separate parts. Very similar to the pickup in the video.
Believe me this is no way to look after your car, in fact it is shear neglect and damned right dangerous.
Brakes grinding, a common thing ?
Firstly, the most common brake noises that come from cars are grinding noises. later, a bad bump noise. Especially, when the brakes are pressed hard.
Brakes grinding
Squeaking noise when braking, is also a common inquiry, but this is just a build up of brake dust and a good brake clean will usually cure the noise.
Some cars still have disc brakes at the front and drum brakes at the rear, although the trend is to have disc brakes all round, Another problem is when the driver asks about brake drum noise. As I say this is normally at the rear of the car and means that the brake shoes will need replacing, or cleaning getting rid of a rust build up on the actual drums, which can cause a grinding noise.
http://www.pellonautocentre.com/citroen-ds3-pulls-in-with-grinding-brakes/
Sourced through Scoop.it from: www.youtube.com