Testing my new General Grabber AT 255/60/18 on the Land Rover Freelander 2 It`s not the real off road thing,, but I was alone on a sunday afternoon in my .
I have always been a fan of the General Grabber AT tyre. I know that they are good. Because they are popular in my area Halifax in Yorkshire UK.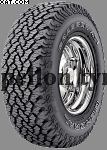 The area is very hilly. We have many farms in the area. Therefore, we often get severe and snowy winters. The farming community is loyal to the Land Rover. Hence, as a vehicle of preference.So we sell many tyres for these types of vehicles.
This General Grabber AT testing video is exactly how I would imagine.
For this reason, for the tyre to perform in any condition. Naturally, that is thrown at it. As I said, earlier. Farmers and other country dwellers swear by these tyres. General are now part of the large Continental tyres group.
Another market niche that the General Grabber At has entered is the SUV market. The massive increase in this type of vehicle has definitely increased the popularity of these type of tyres. The SUV 's are also driven by lady customers, who put their families first and will pay extra for a tyre that also gives them grip in the winter time.
General Grabber AT
The General Grabber AT fits well into this category, and the tyre has become very popular here in the Halifax area of Yorkshire, where the terrain is very hilly with many small isolated roads. The female drivers want a tyre that will enable them to get the kids to school safely and not get stuck in ice and snow.
The summer tyres that are fitted to the SUV's are useless in winter weather, and the General Grabber AT tyres will do the trick. One of the disadvantages of fitting tyres with extra grip was the road noise. The General Grabber AT tyres have been modified to run much quieter in normal road conditions and have now become a great all round tyre to fit on your SUV or 4×4.
http://www.pellontyres.co.uk/Tyre/Details/General/Grabber+AT