Tyre Industry Responsible

Michelin survey: 36% of respondents unsure of legal min. tread depth; 62% don't know the penalty for illegal tyres. pic.twitter.com/FceWAbI36i
This Tyre Industry Responsible survey does not surprise me at all?
Tyre are the last thing on most drivers minds, as drivers are still under financial pressures and the young drivers would rather buy expensive clothes or spend their money on a good night out.
Sometimes I think that we in the tyre industry moan too much about what the customer knows and should know?
I think that is a good idea to carry out tyre research and we all have to thank Michelin in this instance, but are the results really so surprising?
Many of us in the trade (and that includes me).  Are to blame for this. Over the years. We have constantly launched tyres at the public.Hence, most of the motorists today just see tyres as a consumer product, that they buy, when they are told that they need one.
Many people that read my blogs are in the tyre retail industry and this means that we can all relate to the same or similar problems. For some reason the tyre industry have failed to educate the public, in the safety aspect of their tyre products.
Each manufacturer brings out a new tyre and promotes it the same as skin cream or perfume, but never really explains exactly what a tyre is all about. Take a recent innovation, run-flat tyres. As far as I know they were just brought out and fitted to cars as original equipment. Nothing was explained what the tyre safety features were?
Tyre Industry Responsible
I remember the days when "features and benefits" were a buzz word in the tyre industry, but now it is more about market share. Would it have hurt the industry to put out information facts, in the press or on TV, even such programmes as "Top Gear", could have done a piece about run-flat tyres. "New type of safety tyre will be coming out and be made by most of tyre manufacturers, will be arriving on some models of new cars". Things like this would have educated the public as to why these tyres were very expensive.
We as tyre retailers, have all this to put up with?
To be truthful, we don't really mind. Consequently, I do think that the tyre industry. Particularly, the manufacturers. Hence, should play a bigger part in helping to educate the motorists. Into what tyres are really about. Therefore, how they should be looked after more carefully. I am thinking about tyre pressures and how to check their tread depth.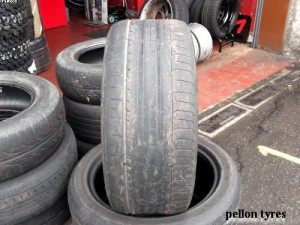 We here at Pellon Tyres experience these problems on a daily occurrence.
Drivers have very busy lives and should be made more aware. Thus, of the importance of their tyres. Cars are getting bigger? I am thinking about SUV's here, more and more young drivers including many ladies are now drivers.
Should we be targeting this age group and gender group, who are the drivers of the future?
Tyre Industry Responsible
It does concern me about the number of our customers who do not even know their tyre size. But worse of all the large number of tyres that we are removing that are worn down to the steel cords.
I do appreciate that we have now got Tyresafe working on this problem, but the tyre manufacturers are leaving all the hard work to the tyre retailers and most of them have staff that are not trained and in some cases know practically nothing about tyres, except how to fit them?
But that's another story.
Eric Roberts
Sourced through Scoop.it from: twitter.com