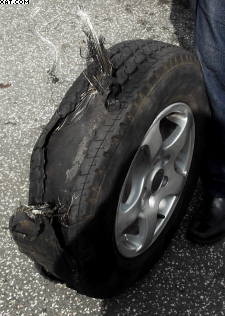 Tyre Safety-Premium v Budget Tyres Wet Braking Test
Many of our customers, who call into see us in Halifax. It is easy to see that they find difficulty in choosing a tyre.This can be can be difficult. They look similar and until you get them
In fact, it is true what they say, "they look similar" but until you get them onto your car. You pay your money but you do not know how they are going to perform out on the road. This is an excellent video to help inform you. it shows the difference between cheap tyres and more expensive tyres.
Watch this wet braking test to see the difference between a set of Continental premium tyres and a set of cheaper budget tyres that look similar but perform very differently on the road. This may help you decide which ones you want to spend your money on. we all have a choice?
The budget tyre took an average of 14 metres or 3 and 1/2 car lengths extra to stop. When the premium tyre had come to a stop, the car on budget tyres was still travelling at 31mph.