Under-inflated Tyres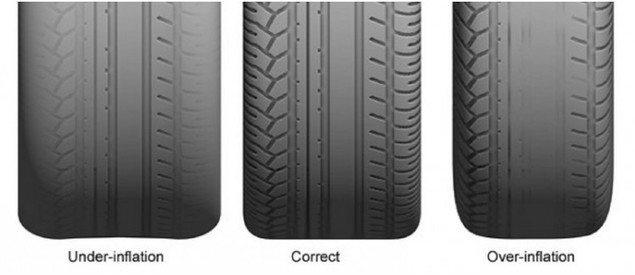 Under-inflated Tyres; Research carried out by Michelin revealed that drivers are letting tyre pressure affect them money-wise.
There is no doubt that drivers are throwing away money. So, by not checking their tyre pressures at regular intervals. Of course prompting the possibility of tyre troubles. The images tell it all? Day after day we remove tyres from cars that could have been used for at least another month.
You can clearly see the affect that under and over inflated tyre pressures have on the wear of your tyres. The drivers of SUV's and the larger saloon cars are the worse culprits. Even with the price of tyres dropping so much, they are still an expensive item?
Under-inflated Tyres
The premature wear is costing motorists some money and they don't even know it. Under-inflated Tyres must cost the country billions of
pounds in premature tyre wear. I think that it could come down to the waste culture in general. It seams the bigger and more expensive the car, then the less care is taken about the state of the tyres?
Tyre wear also affects how your car reacts in certain driving conditions. We have all followed a car and caravan along the motorway and noticed how the caravan begins to sway from side to side.
This is caused by two things ,either the tyres are under inflated, or just one of the tyre may be under inflated, or the caravan is overloaded and with the wrong load indexes on the tyres.
The swaying can be the same as your car. it causes under steering and over steering.
We have all felt this affect, when cornering a little too fast. If your tyres are near to the limit or if you have incorrect tyre pressures, then you could lose control of the car when braking or cornering.
All because you cars tyre pressures had not been checked?
www.pellonautocentre.com/our-blog/
Sourced through Scoop.it from: etyresnigeria.com