Spare Wheel problem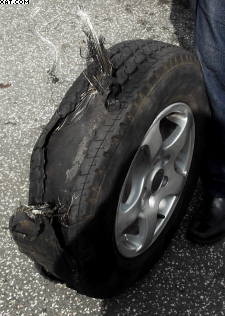 Spare Wheel problem; AAA is calling on automobile manufacturers to stop eliminating spare tyres from new car models.
cars without spare wheels?
This is one of the most stupid things to come out of the auto industry. I recommend that my customers should either buy a spare wheel themselves or join one of the motoring organisations such as the AAA in the USA or the AA here in the UK.
The idea was to lighten the weight of the car to save on the environmental impact and make the cars greener, but the car manufacturers must have saved themselves a fortune by leaving out a spare wheel.
The AAA in America are complaining in this article about the lack of a spare wheel, but i bet their membership has gone up recently?
Listening to my customers in Halifax UK, then there really is a Spare . Or the lack of a Spare Wheel problem, to be precise. it tends to be the older guys who do have a problem. Perhaps that is due to the amount of driving experience that they have had, combined with the number of times that a Wheel problem has occurred.
Spare Wheel problem
Lets face it when you do have a puncture, it is usually in some awkward spot? the last one that i had was when boarding a ferry to France, with five screaming kids sat in the back. We had to carry on driving onto the ferry, before i could attempt to change the wheel.
I had to unload all the holiday stuff to get at the spare wheel, but at least i had one. You would be surprised at the number of drivers that have been stuck with a Spare Wheel problem? the problem being is that they did not have one?
When they bought the car it was the last thing on their mind!! DOES THE CAR HAVE A SPARE WHEEL??
www.pellonautocentre.com/our-blog/
Sourced through Scoop.it from: nj1015.com