Wheel alignment cost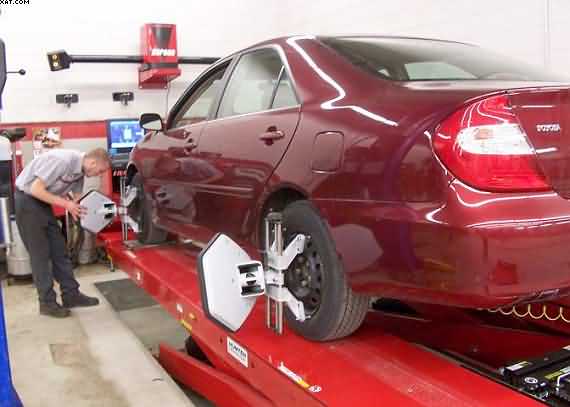 Does your car need a wheel alignment in Charlotte? Our Toyota Service Center is explaining this auto service!
how much does a wheel alignment cost ?
This is the question that we get asked on a daily basis. Getting a regular front end alignment, is very important. it could save you pounds (££££'s) on tyre wear. Having your alignment done is very important but the perennial thing that our customers ask is" how much is a front end alignment"
For some reason drivers think that it will cost them an" arm and a leg" never mind the benefits.
Especially if buy a set a of new tyres. It is a no brainer ,not to have your alignment checked, before your car leaves the tyre centre.
it is very interesting about the wheel alignment cost, in other parts of the country. At the top end of the price scale garages charge for a 59.99 wheel alignment. Here in Halifax we offer the price at 39.90 as a normal wheel alignment cost.
I say normal because although most jobs are straight forward, some are really badly seized up and we have to apply heat to try and free up steering parts that are the problem. This incurs a further small charge, but as i say in general the job is an easy straightforward one.
Wheel alignment cost
The front end alignment also increases if the garage uses a sophisticated wheel alignment machine. The one we use is a laser machine and is very accurate, but some machines are very extravagant and even require their own ramp to operate on. The garages that use these machines charge up to 80.00 per alignment, but you will get a fancy printout at the end of it.
In general local front end alignment shops, will charge a reasonable price and it will prove to be good value for money. if you buy new tyres or your old tyres are wearing badly and the car pulls to the left or right ,then you need a wheel alignment.
Please look at …http://www.pellontyres.co.uk/TyreInfo/GuideToAlignment
Sourced through Scoop.it from: www.wbtv.com