Winter Tyres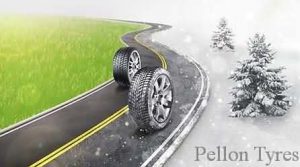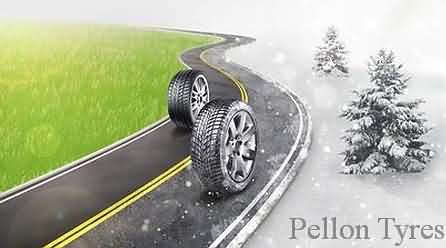 Winter Tyres are developed to provide better grip and stopping distances than normal tyres at lower temperatures, find out more here…
After probably the mildest and wettest period it British weather since records were kept , it looks like it will be getting colder with some snow on the Horizon?
Winter tyres are also great in the wet conditions and can give the driver complete confidence when driving on wet and flooded roads. The winter tyres will get rid of all the water that the heavens can throw at us?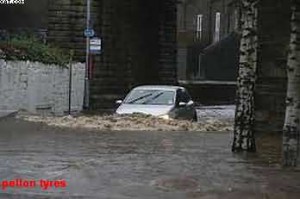 I always have winter tyres fitted to our vehicles and last week was a point in case. My daughter has recently moved into a house in Mytholmroyd, and i think you know what must be coming next?
She received a phone call to say that her home was flooded and she was desperate to get there. She spent Christmas at our house, but needed to inspect her house on Boxing day.
2016 Winter Tyres
We set off in the torrential rain. Only to find that all roads to Mytholmroyd and beyond were blocked by floods. We have collected many customers cars in the hills surrounding the Calder valley. Thus, I had pretty good knowledge. About how to get around the small single track roads.That would lead me down the Cragg Vale road to my daughters house.
What I did not count on was the torrents of water. Hence, that were teaming down these small steep valley roads. However, thanks to my trusty winter tyres. We ploughed on through the water and eventually made it to my daughters house.
I am writing this on the morning of the 1st of Jan 2016.Up to now this is only our second frost of the winter.
I believe the same has occurred in the USA . New York has had temperatures in the 20 deg C range, during December and i think that this is also some kind of a record,
Some friends of ours have recently gone skiing in Boston?
Well there was NO snow. Except for some artificial stuff. I am sure though that winter will return with vengeance, and all those who have bought winter tyres will not feel so bad when they are ploughing through snow with the greatest of confidence, in a car fitted with their winter tyres.
Moving forward to 2022 then things concerning the weather have not changed very much. Hence we are still witnessing milder winters. keep my fingers crossed that the 2022/23 winter may send a colder winter for winter tyre sales.
https://www.pellonautocentre.com/?s=winter+tyres
Sourced through Scoop.it from: www.stokeaudi.co.uk