Goodyear Ultragrips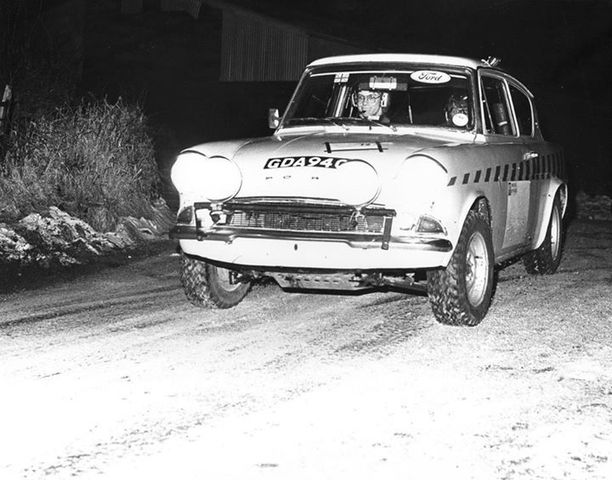 Last rally in our (Barry Musker's and mine) Anglia . it was all working by now and even NEW tyres Goodyear Ultragrips . we are car 72 now!! a very icy…
Wow this image and the words of Goodyear Ultra-grips take me back to the seventies when I used to fit tyres on some of the Yorkshire stages for Goodyear. The company that I worked for in those days was Tyreservices.
I was manager at their Huddersfield and later their Halifax branch here in Yorkshire. I have told this story many times. We sponsored a lady rally driver by the name of Krissy Ashford. She drove a Ford Escort mk2 in the blue and white colours of Tyreservices, who were owned by Goodyear tyres.
The tyres she used were Goodyear Ultra-grip performance. Consequently, these tyres came in a slick and gravel tread pattern (as far as I can remember). Hence, this was also the time of the Mini's involvement in rallying. I think she drove on 13 inch Goodyear rally Specials, that were supplied to her by Goodyear and we would fit them for her and change the wheels when required.
Goodyear Ultragrips
We worked from a massive Goodyear truck that was equipped with tyre fitting machines and compressors. We would change the wheels with tyres already built up at our tyre depot in Huddersfield. It was always in winter and freezing cold, but we loved to do this. It was very exciting with all the noise and smells coming from the different rally cars.
I loved the Minis? They were kitted out on 145×10 Goodyear Ultra-grips and were tops either in the forests or on tarmac. I was told by one driver that he preferred these tyres to the 165/70×10 Goodyear Rally Specials.
The Goodyear's were great. The Ultra-Grip in 145 x 10 were tops in the forests and on tarmac there was not much better than the 165 x 10 Rally Special.
Other tyre brands that wee about in those days were the Dunlop SP 3's and a bit later Avon tyres used their Arctic Steel radials. The SP3 and the SP Sports were also very popular for rallying in Minis.
Happy days!!!
Eris Roberts
http://www.pellontyres.co.uk/Tyre/Details/Goodyear/Ultragrip+GW+3