Cracked Tyres-Ozone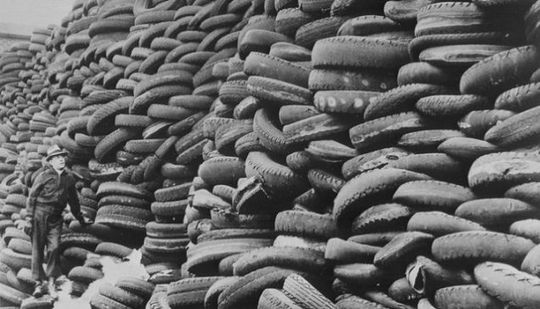 Ever seen old tires, the rubber in them dried and deeply Cracked Tyres-Ozone? They were ripped apart not by the road, but by a greenhouse gas.
This is an excellent article. As a result, points out the dangers that the Ozone presents to the deterioration of your tyres.
Over the many years that I have been a tyre retailer. I have found that the biggest problem with the ozone affecting tyres. Can, therefore, be seen on tyres that are exposed to the climate. Of course, over an extended period. Hence, this includes things like tyres on farm vehicles, which are exposed to the weather for long periods of time of time.
Caravan and trailer tyres are also severely affected. Thus, with the cracked tyres syndrome. Because the tyres are exposed to the elements, over a period. Many a tyre dealer will tell you about the farmer who brought in a couple of tyres. He had left outside, to be fitted onto some loose wheels?
These tyres were always riddled with cracks in the bead area. Accordingly. This is what we call the crazy paving effect. Therefore, we had to refuse to fit them. This was because when we inflated them. They could have exploded apart, and I can remember one that did just that. The rear tractor tyre blew lifting me ten feet into the air. Luckily I was ok, but my ears were ringing for days after?
Cracked Tyres-Ozone
Are caravans the same? The danger is when the caravan(or trailer) has been exposed to the ozone, then the cracks from around the tyres bead area and become dangerous with the caravan owner NOT knowing anything about it. They then move the caravan out onto the roads and the cracked tyres, combined with heat buildup, cause the tyre to explode and in some cases, this can cause an unfortunate accident. We have all seen this, especially on bank holidays when the caravans are on the move for the first time.
To conclude it is always best to check your tyres on trailers and caravans before venturing out onto the road. Farmers will always be farmers, and if you fit these for them, they will just let you, as they do not like parting with their money. This article also relates to tyre pressure.
Another worrying aspect of this problem is that the cracked tyres are getting onto the part used tyre market, we have seen this recently and the fact that people are buying these worries me deeply.
http://www.pellontyres.co.uk/TyreInfo/TyrePressure
Source: io9.com