Tyre Separation-Whose Fault is it?
In all my years in the tyre business, this has always been a difficult thing to judge. One of the reasons is because the tyre often disintegrates into pieces and the original cause cannot be seen , at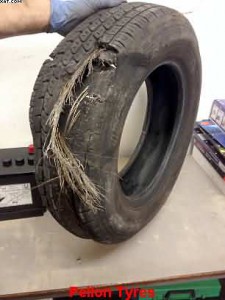 least with the naked eye.
I am bringing this up because just this week we have had two cases of tyre separation on two different types of vehicle. One was a car and the other a caravan. The car had developed a large "egg" on the shoulder area, and the caravan had pieces of tread hanging off after a blowout occurred when the driver was returning from his holidays.
Both of our customers were disgruntled to say the least and both blamed the tyre separation on faulty tyres. More reading…http://www.tirefailures.com/coopertire/tirefailures.html
This takes me back to my younger days, when faulty tyres were very common. Even in my later years I noted that Firestone in America was having huge problems with tyres blowing out on the Ford Explorer. The problem of the tyres became a mixture of blames as the SUV's turned over after the tyre blowout occurred, but other problems with the vehicles design came into play, so I won't go any further with that.
Tyre tread separation in the 70's
Tyre tread separation in the 1960's and 70's became a common thing.The problem stemmed from the tyre companies inability to design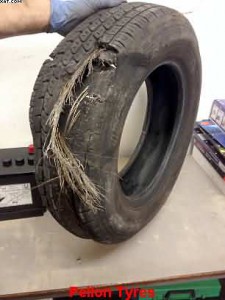 and make a worthy steel belted radial to compete with the Michelin tyres, that were out classing all their other rivals in both quality and tyre mileage, the Michelin's could double the mileage of all the other tyres on the market. Goodyear and Firestone experimented with different types of steel to make the steel belt wires with, but failed to stop the belts oxidising (rusting) and the oxygen that this gave off caused the tyres to separate. (Tyres are made of a build-up of different layers of rubber called a casing).
In the long run they were given a licence from Michelin and the secret of a steel belt coated with alloys made up of brass and copper resulted in the other tyre companies developing a better product, and virtually eliminating the tyre separation problem in their tyre products.
Another problem that let some of the tyre makers down was their lack of cleanliness in the factories that produced the tyres. I can vouch for this myself, having visited some tyre factories and seen the dirt and dust everywhere. In fact it has been known , over the years that things like screws and bolts, even a chicken bone and a screwdriver have been found embedded in a tyres structure, eventually giving the tyre owner problems.
The main problem in the past though has been dust and dirt contaminating the adhesive that helps to vulcanise the tyre layers together. If dust gets in then the tyre will eventually crack or start to form a bubble due to tyre separation. Other problems can be found with the steel belt. They can form rust and corrosion which can be evidence that there has been some sort of moisture contamination, during manufacture.
Tyre makers can now tell what a more specific problem may be. of moisture contamination during manufacturing. Bare wire is an indication of a manufacturing adhesion defect. Brassy wire is a strong indication that there has been an adhesive left out altogether. These type of faults can now be detected by the use of High resolution photographs. These images can be taken of any exposed surfaces as quickly after the problem has been discovered especially if this is required as evidence in an accident case.
Tyre tread separation can be detected at an early stage
This is one of the dilemmas that we face when determining whether the fault lies with the tyre manufacturer or the customer. The main thing is to make sure that you check your tyres at a regular period and as well as checking the pressures look and feel for any sign of a small lump or bubble. I must admit that they are easy to see on the sidewall but not on the tread area.
These bumps and lumps on the sidewall are usually caused by the tyre being kerbed or if the car hits a stone or runs over a pothole. One of the sidewall cords breaks leaving a week spot, pushing out the rubber to form a lump. If this happens and you detect it, then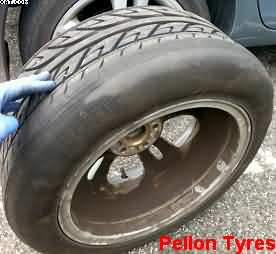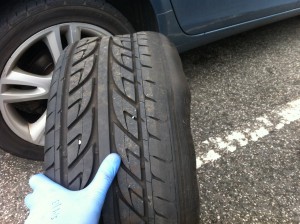 unfortunately you will have to buy a new tyre.
The tread area is a little different. I have found that the main problem for an egg to appear on the shoulder/tread area comes down to a previous puncture repair that the tyre has had. What happens is that the nail or screw, whatever you had in the tyre has damaged the wire in the steel belt and the tyre oxidises, just like a faulty new tyre does. In 90% of cases an old puncture repair will be to blame and we are able to show the problem to the customer. If we cannot find anything that could have caused a problem then we will send the tyre back to the manufacturers with a suspected faulty tyre.
This is a bit of important advice. If you do go over a pothole or hit a kerb with you tyres bellow the pressure that they should be, then you will increase the chance of tyre damage. Also if you feel that the car is pulling to the left or right, or your wheels are out of balance then this is an early sign of a separation problem in your tyre. Whenever a customer has a balancing problem, then the first thing we do is to examine the tyre for other problems, because it is most unusual for a tyre to go out of balance, unless a wheel weight comes off, which is very rare. So if you need the wheels balancing then it is likely that you will have another problem and it is usually a slipped belt caused by separation.
Eric Roberts
Hi I would like to introduce myself. I have worked in the Garage and tyre and I am MD for online battery company www.batteriesontheweb.co.uk. I have worked for a couple for national tyre companies in my younger days, before starting my first business. I now own a garage and MOT testing centre, here in the UK called Pellon Tyre and Auto-centre, and I am a keen blogger about anything to do with cars and their related products that will help my business. We are members of Point-S and Motor-Codes and are also a Unipart Car Care Centre and of course Tyre-safe.