Old Tyres Look Like New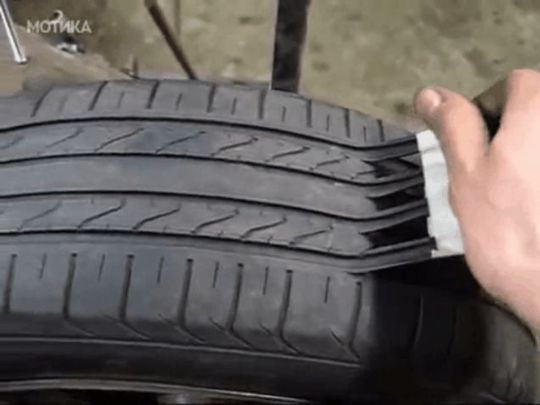 Cutting corners is a way of life for many shady elements in the car community. For them, if it looks the part, it's ready to sell off to an unsuspecting victim customer.
Old Tyres Look Like New
Wow i have never seen this before in all my years as a tyre dealer. As a result I am completely shocked at what i see. For this reason, it just goes to show what type of people. Are running these part worn tyre companies.
Re-cut Car Tyres-is it common practice in some countries?
I was truly shocked and amazed at the same time. Hence, when I first saw the video . At first I was outraged at what was going on.So was the writer of the original article. But after a while I cannot help feeling that this practice does actually go on in other countries of the world.
——
The video has been filmed with a sense of pride by the guy. Who is doing the actual tyre cutting. It reminds me of the time when I used to re-cut truck tyres. I worked for national company years ago. Therefore, I know that we can re-cut truck tyres.  As long as we stick to the rules and regulations. Hence, that are set out for us to follow. But the practice of cutting car tyres. Indeed, has up to now been unheard of. That is, unless somebody can point out where this is a legal thing to do?
  Old Tyres Look Like New-Cases are now cropping up about many illegal tyres repaired
I am sure that many of you tyre professionals out there. Have come across some pretty bad examples. Consequently, of things that are related to part worn tyres. There seems to be little care or thought towards the safety. Or the law where the part worn market is concerned.
Only last Saturday we had customer call in. So that bought two part- worn tyres and fitted about two weeks before. Only to find that they had completely fitted the wrong size. They were not even a legal match? they were far too small for the car?
——
When the customer was questioned as to why he had allowed this he said that the guy told him that it was perfectly alright and he also said that he felt a little threatened by the guys attitude, when he was questioning him about the wrong size.
This sort of thing is just the tip of the iceberg; the worst ones are the bad repairs that have been carried out by these people. We have seen some horrific cases where the tyre has only lasted a few days before blowing out or in some cases these tyres never keep their pressure and the customer brings them into us for sorting out.
—–
The thing that I cannot understand though is that I have never met one customer who wants to go back where they bought the dodgy tyres, to complain. Perhaps some drivers are so hard up financially that they have no choice but to buy these things, and when problems arise they dare not go back in fear of been intimidated by these people.
Old Tyres Look Like New
They must know that they are breaking the law when they sell the public these things, so do you have to be a special type of person sell them in the first place, looking at the state of some of the premises, it is a wonder that people go there in the first place, but as I say people can and must be desperate to keep their cars on the road, and this includes buying part worn tyres.
——
To go back to this video; I cannot recognize the language that the people who are re-cutting this car tyre are speaking, but it could even be here in the UK.
I only hope that these do not make their way to our shores, but nothing surprises me to what lengths these people will go to, to make money. As I have said on many occasions I see nothing wrong with selling part-worn tyres as long as they were processed and sold within the law of our land.
Please take a look at this video and let me know what you think??
Pellon Tyre and Auto-centre offer car and van servicing and repairs to all makes of vehicles. We are members of Unipart Car Care centres and give a nationwide guarantee for all our work and parts.
This post was written by Eric Roberts and first published on Pellonautocentre blog…http://www.pellonautocentre.com/blog/?p=33398