Waste tyres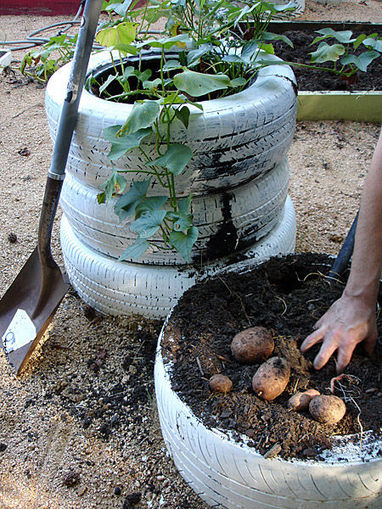 This is a great alternative to the traditional way of raising potatoes in rows and best for any confined space.
Growing potatoes in tires is enexpensi…
Source: www.instructables.com
Of course, another great way of using old tyres is to use them as PLANTERS. So, it is surprising how good they can look when painted. Or you can just use them as they are in your back yard.
naturally, I am a keen gardener and i am speaking from experience. Consequently, the tyres hold water and also heat, they are a great growing container.
Waste tyres as Planters are a great idea
Since becoming a keen blogger and searching the internet for ideas and stories about my specialist subject. Mainly tyres and all other garage related news items that may spring up.
I am not surprised at the ingenuity and ideas that the general public come up with. So, when utilizing, with what many people would see as rubbish.
The rubbish that I am referring to is old waste tyres. Waste tyres have always been an environmental hazard. Of course, and are still regularly dumped on spare ground and in country lanes ! We have all seen them. This always happens, whenever we have to pay something to dispose of.  Then we will get the dark side of the tyre trade just dumping their old waste tyres.
Subsequently, I have written about this for ages . Until the practice stops I will continue to do so. On the other hand I think it is great to see this leveled out by the number of people.
Who are constantly looking for ways of using a tyre when it has reached the end of its life.
Old tyres are new used for many things, including children play areas, tile flooring, tarmac additives and many more, but the one use that keeps turning up is the use of old tyres for growing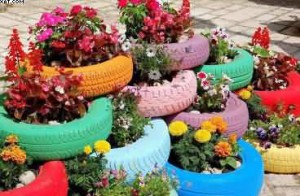 plants in, "planter's.
Those who know me well will tell you that I too am a keen gardener and now use some old tyres as planters. When I first saw this I shuddered at the thought of using old tyres to grow things in, I think it was because I see tyres every day and were sick of the site of them especially the old ones, which are costing me £1 each to dispose of.
However one spring day I decided to give it a try
but first of all my wife Michelle painted them for me, I think that they look better that way and were more acceptable if they looked a pretty colour. The first crop I grew was in fact potatoes. I did this because I wanted to try to see if I could find another way of not having to earth them up to encourage a bigger crop of potatoes.
When the green stems and leaves grew, I simply placed the same size tyre on top and topped it with new soil.
Waste tyres conserve water and heat
To be truthful the system worked well. I found that the waste tyres absorbed the sunlight and heat from the sun gives an ideal growing climate for the plants. Also the inside part of the tyres, holds water and moisture. The downside to this was the fact that this is the ideal place for SLUGS to live and breed, but I suppose that that is a different story and we all have our own methods of dealing with the slug problem?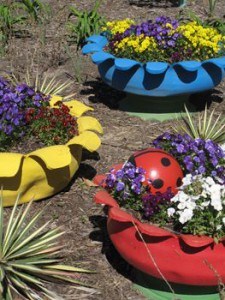 I have posted some great pictures of painted tyres, on this article and hope you will enjoy converting waste tyres into planters.
Eric Roberts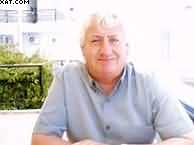 Pellon Tyre and Auto-centre offer car and van servicing and repairs to all makes of vehicles. We are members of Unipart Car Care centres and give a nationwide guarantee for all our work and parts. We also sell Michelin Tyres online from our website www.pellontyres.co.uk by using the tyre selector and choosing your tyre size.