Wheel Balancing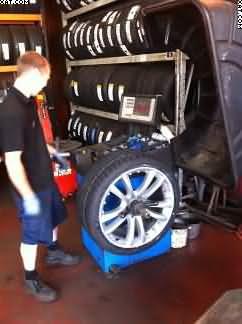 Wheel balancing, also known as tire balancing, is the process of equalizing the weight of the combined tire and wheel assembly so that it spins smoothly at high speed.
Source: tires.about.com
Wheel Balancing is a very important part of the care of your car and the tyres in particular.
We have all experienced the niggling vibrations. Especially, when we are driving on  the motorway, due to out of balance wheels?
In days gone by tyre retailers, like myself, used to charge extra for the wheel balancing service. But due to speed and superior suspensions and steering of today's cars, it is important that we have to balance every wheel, when a new tyre is fitted.
The only other time that you will require balancing is if one of the lead weights comes off whilst driving. On the odd very rare occasion a tyre may go out of shape, but due to the highly mechanised and clean state of tyre factories, this is now very rare.
http://www.pellontyres.co.uk/Content/Page/About+Wheel+Balancing
As a tyre retailer here in Halifax in Yorkshire, wheel balancing has always been an important part of our job. A few years ago balancing was an add on charge , much the same as wheel alignment is today. Today though the wheel balancing in my opinion is much more important.
This is because today's cars are much faster and travel at higher speeds on our motorway systems. Alloy wheels are also the normal fitment on many of the new cars made today, making it even more important to have your wheels balanced when fitting new tyres.
having your wheels balanced when fitting new tyres is now all part of the job. We no longer add an extra charge for this service. When your car drives out , then your car will be ready to use with the knowledge that the wheels will have been automatically balanced when the new tyres were fitted. It makes no different if the tyres were cheap tyres or expensive tyres, the wheels will have been balanced.