EfficientGrip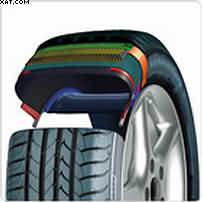 EfficientGrip is the new double "A rated" tyre from Goodyear tyres for a better rolling resistance
In my opinion, for what it's worth, there has not been a more competitive time in the worldwide tyre industry. This new surge for a more prominent place in the tyre market has, in my opinion, been set off by the bigger picture of the race for a greener car.
Tyre companies are looking at the present and also the future with the introduction of many new concept tyre ideas. We also see the modernisation of the present day tyres to offer the car makers and the motorists a better lighter tyre made from non-petroleum products that contain more natural ingredients, such as Yokohama tyres with their "orange peel oil" and Continental tyres using the latex that they produce from "dandelion plants".
EfficientGrip is the new double
Many other tyre companies are experimenting with improved technologies. Naturally, in the effort to give their tyre products a better "rolling resistance".  Therefore, give the vehicle on which they are fitted a better and more efficient performance. In other words, making the tyres greener and more environmentally friendly. Hence, a thing that we are all looking at, to make us all the better and a cleaner world to live in. Silica is also used in the tyres tread compound.
For some years now.  Goodyear has developed their tyre technology and testing in two centres. In Akron, Ohio in the USA and Colmar-Berg, Luxembourg in Europe. In fact, I have indeed visited the centre in Luxemburg. Thus,  as far back as the days of the Goodyear Grand-Prix S tyres. Consequently, then a new tyre that was developed to dissipate water at a faster rate and improve the traction. In wet weather.
The new Goodyear EfficientGrip released in Geneva Show
This new EfficientGrip Performance tyre. As expected, comes out in eight new sizes with a double" AA" rating.  Which offers consumers a significant advantage when it comes to their cars. Environmental and safety performance. Thus, by reducing the total fuel consumption. Therefore, also the stopping distance of the tyres on wet roads compared to any lower-rated tyres. This is a great coop for the giant tyre maker and this along with the announcement of two new concept tyres, will make a great start to 2015 and throw out the gauntlet to the other leading tyre companies, to come up with something better.