Bald Tyres-Halifax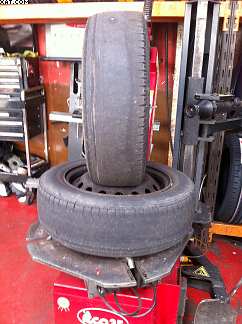 RT @dharford79: Tyres like this have no handling or braking capability! #RoadSafety #TyreChecks pic.twitter.com/AxoseCx3Gc
Source: twitter.com
Bald tyres Halifax are an every day occurrence?
The tyre on the original image is the type of thing that we see every day. Especially, here at Pellon Tyres in Halifax, Yorkshire UK.
Burnt Tree are a reputable vehicle hire company. Thus, this tyre would have been picked up before it reached such a bad state.
It never stops to amaze me. Hence, about the amount of cars that we have coming in to my tyre retailer depot. Accordingly, with bald tyres in Halifax. In fact the majority of the tyres that we remove. Therefore, are now beyond the bald tyres stage. They are down (and in some cases) past the steel belt stage. This makes the car on these tyres very dangerous indeed.
It is hard to imagine. That some of these cars could have been doing high speeds just a day before the new tyres were fitted. I do realise though that tyres are one of the last things on drivers minds. In today's busy world we are all flying about at the speed of light, with other things on our minds.
Bald Tyres-Halifax
it is important though.Therefore, to step back once in a while and consider your poor car. I think it is safe to say that the cars with the really bad tyres . As expected, are the same cars that do not have any servicing. If the cars get a regular service then any bad tyres would be spotted by the garage. These tyres would then be reported to the driver, when the car is picked up.
We find that when we report such things then it is on the drivers mind. If they do not have the new tyres at the time, then they usually save up for them or have them fitted in the near future.
These tyres are very dangerous and the tread limit should be adhered to. All you have to do is call in to your local tyre centre and they will check them and the tyre pressures for free. thanks  Eric Roberts