qualified 6th of 12 runners in the BMW Kumho Championship-with a 1:16.7min lap, my fastest time around the circuit. I was running quite well despite knackered old tyres, until lap 4 when I got hit …
A great video to watch as the driver of this BMW, puts his car through its paces. The cars are all fitted with Kumho tyres and these are events that i love to see and visit the races where possible.
This inside camera gives you a great view as the car puts the Kumho tyres through their paces.
As i have stated on many occasions, the information that is gained through the motorsport experience goes back to making a better tyre for the regular passenger cars.
The guy in the video finished sixth out of twelve cars in the BMW Kumho Championship
Of course, held at Donnington park in the East Midlands of England in the UK.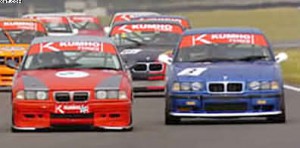 The BARC's , BMW Kumho Championship is open to all BMW production cars that can be bought in the UK. The tyres that are fitted to these cars are in fact known as Street legal control tyres are supplied by Kumho tyres.
The Kumho tyres are all made from the same compound and there is only one tread pattern available to the BMW racers. The cost of the tyres costs are kept to a minimum, to help all the competitors keep down the expense of racing.
These BMW cars are really put through their paces along with the tyre of course. At a recent meeting at the Croft race track in North Yorkshire, i was able to ask a few of the drivers what they thought of the Kumho product and i have to say that to my surprise they all agreed that they were excellent to drive on and were an excellent tyre in both wet and dry conditions.
The BMW Kumho Championship races are very exciting to watch and i would recommend a visit if the racing is in your area.
http://www.pellontyres.co.uk/Tyre/Brand/1268/KUMHO
Sourced through Scoop.it from: www.youtube.com