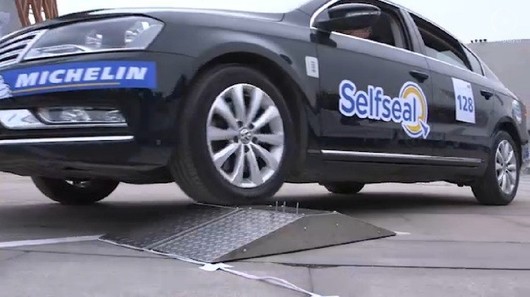 Michelin will be rolling out its puncture-resistant Self-seal tyres around the world starting 2015.
Source: www.tyreblog.co.uk
It is not just the inconvenience of having a puncture, but the dangerous situation you can find yourself in when running over a screw at say 70mph?
The Michelin self-seal will repair itself instantly and get you out of trouble. It cant however help you if you have a sidewall problem, in that scenario the tyre will deflate like any other tyre would, but it is a step in the right direction, but is not as safe as a run flat tyre.
Continental tyres and Michelin tyres launch a new type of self-seal tyre
Both these giant tyre companies have up with a similar type of product that will give the motorist some kind of protection against their tyre deflating, when the tyre picks up a screw or nail in the tread area of the tyre.
Both companies use a type of soft compound that is located inside the tyre below the tread area and resembles a thick layer tar? The tar looking substance is very sticky and as I have said covers the inside of the tread area and stretches from shoulder to shoulder.
The compound protect against penetrating nails and other Sharpe objects that are up to 5 mm in diameter, but only in the tread area. When a nail goes into the tyre it seals instantly and eliminates the need to stop and change the wheel or even having a tyre repair done at all. This will be bad news to the larger tyre repair companies such as Rema Tip-Top, who have spent years developing different tyre repair materials that we use for repairing punctures with.
Even when there is just a hole in the tread, say if a nail goes in and comes back pot, then the repair material will still seal the hole almost instantaneously, the tyre will not require another repair and can be used without requiring a roadside spare wheel change.
Self-sealing tyre reduces the risk of a flat tyre

These tyres do have their limitations and drivers are still advised to check their tyres at regular intervals for cuts and lumps and bumps, remember the tyre seal does not protect you against any sidewall problems, but only the tread area. They are also not a run-flat tyre and must not be run on if the tyre loses any pressure at all.
Michelin tyres self-seal system is pretty much the same.
The special compound, that sits inside the tread of the tyre and seals nails and screws that penetrate the tread area. Once the hole is sealed Instamatic by the sealing compound then the tyre is deemed to be repaired and as long as no pressure is lost the tyre can be continued running on as a normal tyre.
Michelin say that the self-seal tyres will be used this year (2015) on some VW models and that there is no reason why the system cannot be used on any of its tyre range, without any compromise to tyres performance abilities.
It is important though to remember the self-seal tyres are not the same as run-flat tyres and for the sake of repeating myself they should be checked by a professional if they lose any pressure.
In my opinion for what its worth, I think it only confuses things from a practical point of view? When we have to repair a self-seal tyre, then we have to buff of the area where the repair is required, (a very messy job) before carrying out the repair. Once the tyre is repaired then it can be no longer classed as a self-seal. In fact we have come to a conclusion that like the run-flat tyres the self-seal is not worth repairing and we offer the customer a new replacement tyre.
Pellon Tyre and Auto-centre offer car and van servicing and repairs to all makes of vehicles. We are members of Unipart Car Care centres and give a nationwide guarantee for all our work and parts. We also sell Michelin Self-Seal Tyres online from our website www.pellontyres.co.uk by using the tyre selector and choosing your tyre size. We offer courtesy cars to local motorists who need to go to work and leave their car with us for work doing. We are also an official MOT testing station and are members of Motor-codes, who carry out checks for high standard of equipment and workmanship.