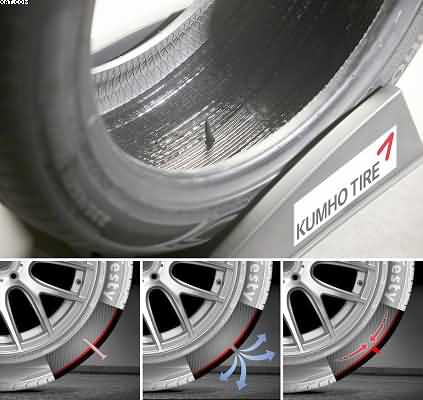 Kumho Tyres will be revealing some future tyre technology including SEALANT TYRES at this weeks Iaa Frankfurt International Motor Show… http://t.co/hvzQUXeZRm
There is no saying what the large tyre companies will be coming out with next? SEALANT TYRES
Another exciting thing to come out of the tyre scene recently is the research and development pact that Kumho and Yokohama tyres have just announced.
These are exciting days in the tyre trade, with all sorts of
announcements coming out on a daily basis.
Sealant tyres are nothing new? several of Kumho tyres competitors have marketed a similar product, in the past two years.
This works, when an object penetrates the tyre (such as a nail or screw) then the sealant tyre will plug the hole with a semi-liquid substance. This will seal the hole and the sealant tyres would have done the job. This is just another one of the ways that tyre companies are getting round the "no spare wheel" problem.
In my opinion it is a great idea and we have first hand experience of a similar product being successful in our tyre shop in Halifax Yorkshire UK.
SEALANT TYRES are nothing new?
Self sealing tyres are also manufactured by two of the big tyre companies. I covered this in the post that i have linked below. The other tyre companies are Michelin and Continental. Both these tyre companies produce similar products. I believe that Kumho will be the first of the mid-range tyre companies to make such a safety product.
More and more cars will be produced without a spare wheel. These products will be developed to help the motorist get out of trouble should they be unfortunate enough to have a puncture due to a nail or a screw. The downside of sealant tyres, in my opinion ,is that most tyres that are deflated at speed are damaged by the weight of the car and the speed of the car. No amount of sealant will help in this situation. The tyre will be damaged beyond repair.
We see this very week, customers with damaged tyres that were unable to stop their car, when a sudden deflation occurred.
http://www.pellonautocentre.com/self-sealing-tyre/
Sourced through Scoop.it from: kumhotyre.co.uk