Michelin Winter Tyres

Michelin Winter Tyres
'It's not just snow drivers need to be worried about' @AttachmentMumma looks at @MichelinTyres' tyre safety research http://t.co/6Sx2LSvAwZ
Source: www.attachmentmummy.com
Wow a great article to read!!!
Michelin winter tyres and Mums
This is a great time for the tyre trade in general. Because of the good vibrations that I am picking up from female friendly organisations. Thus, that are educating their online readers with information about tyre related topics.
The one I have recently picked up on. Has been published by an organisation known as "Mumsnet" and posted on www.attachmentmummy.com .
This organisation interviewed women. Asa result, about their knowledge of winter tyres and tyre matters in general. I have published the questions and answers. Hence, on my blog in the same graphic style. In general the answers were what we could expect.But I was impressed with the number of women. Who did know about tyres and in particular winter tyres. In fact 62% of the ladies that were interviewed. Therefore, said that they would consider buying winter tyres for their cars. This figure falls in line with the big picture . Of the increase in winter tyre sales in the UK. Hence, over the past five or six years and most tyre companies are taking the winter tyre market very seriously now here in the UK.
This has also been driven by a string of bad winter weather, in fact as I am writing this post, the forecast is for bad weather conditions for the next two weeks and this will strengthen the demand for the winter tyre products. Michelin winter tyres are a favourite amongst the big car owners such as the BMW's and the Mercedes, with the rest of the market being shared by the other companies that manufacture winter tyre products.
Mums buying Michelin winter tyres is not a new thing
The trend of women becoming more advanced in the knowledge of their cars is nothing new to me. I have been writing about the advancement of the female drivers for a few years now. No longer is the car the domain of the man? You only have to look in your own family circle to realise the number of female drivers and car owners that there is. One of the first things a young woman will do when she leaves school or college is to pass her driving test and buy her first car.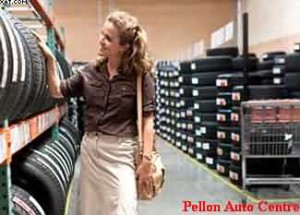 When I was young the girls were not interested in cars and preferred to leave the driving to the boy's, but now the situation has equalised and a young women is just as likely to buy a car has a young male, how the tide has changed.
This change has been picked up by the large tyre companies, with their adverts now targeting female drivers, such as this joint article, backed by Michelin. Indeed I am convinced that the tyre industry on the whole will be run by a mixture of male and female staff, as females get more and more interested in working in the car industry.
Many tyre companies now employ female staff, indeed my depot managers is a woman and does an excellent job, with the added extra benefit of being able to communicate with our increasing number of female customers.
Pellon Tyre and Auto-centre offer car and van servicing and repairs to all makes of vehicles. We are members of Unipart Car Care centres